Things to See When You Travel to Venice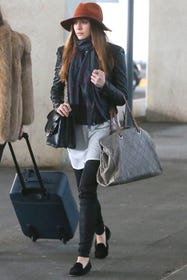 Whether you want to see all the historic buildings, watch a glass-blowing presentation, go hiking, or you want to just sit and people watch at one of the sidewalk caf?�s, Venice can accommodate you. This city is full of exciting things to see and do, no matter what time of year you go. Here are some 'must-see' attractions you should include in your itinerary.
A� St. Mark's Basilica: This remains one of the most popular tourist attractions, partly because it's free. Once you're there you'll want to visit the three museums, which do charge a small fee. It is well worth it to learn about the history of this amazing building.
A� Grand Canal: You cannot visit Venice without touring the Grand Canal; it's part of what this city is famous for.
A� Doge's Palace: Located right next to St. Mark's this palace is rich with history and you will learn how this city came to be. A walk on the Bridge of Sighs will give you an excellent view of the city.
A� Teatro La Fenice: One of the most important Opera Houses, and one of the most prestigious. It dates back to 1789. If you have a group of 10 or more, you can take a guided tour with cocktails and learn about the history.
A� San Rocco: If you are a fan of Tintoretto's paintings, you will see them at this Art Museum. There are also concerts that you can enjoy if you happen to come when one is scheduled. Pictures are prohibited, so leave your camera at the hotel.
A� Rialto Bridge: This is one of Venice's most famous bridges, and is lined with shops and flea markets.
A� Ca Rezzonico: A three-story museum full of paintings, sculptures and carvings. Don't bring your camera here: pictures are strictly prohibited.
A� Clock Tower: Take a guided tour to the top of the tower for a unique experience. You'll go up a narrow pathway of stairs, and pass the clock's mechanism on the way.
Talk to your travel agent about getting some of these included in your travel package. You can also look online for special deals or discounts. Just make sure you are buying from a reputable source if you do purchase anything online. Be sure to get in as many of these sights as you can, in the time that you have; you won't be disappointed. Also, don't forget to bring a camera, Venice is so beautiful, you will want to take pictures non-stop.